Meet the Team: Candy Porter, Director of Sales
From time to time we like to feature members of our team in order to introduce you to some of the smartest and hardest working Montanans you'll meet. They're the people who go out of their way to ensure our products and services exceed the expectations of every customer we serve.
Today we talk with Candy Porter, Director of Sales at Spika Welding & Manufacturing.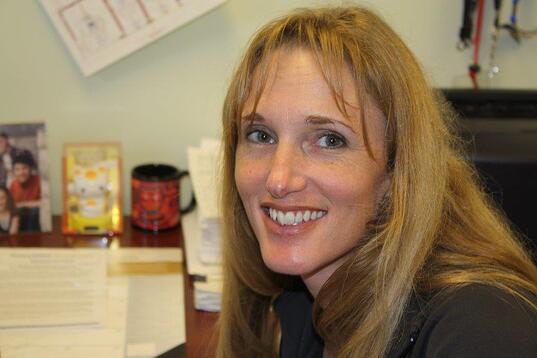 Name: Candy Porter
Role: Director of Sales
Q: How long have you worked at Spika?
A: Just over six years.
Q: What is the best part about your job?
A: I love everything about my job; no two days are alike. My favorite part is interacting with our customers and helping them find solutions to their problems. I enjoy working with them to pick the best Spika product for their application, or helping them throughout the design process.
Q: How would you describe yourself in 3 words?
A: Driven, dedicated, and creative.
Q: What does your average day look like?
A: My alarm goes off at 5 a.m. and I head for the coffee pot. I typically arrive at work at 8:00, and I spend the entire day working with customers, answering emails, taking phone calls, and doing paperwork until I leave at 6:00. Then it's home to cook dinner…
Q: What is your favorite memory of working at Spika?
A: I have several: My first $500K sale, my first conceptual design that became a real work stand, and all of the great people I have met while working here, both customers and co-workers.
Q: What are your hobbies and interests?
A: Work is my favorite, but I like to shoot pool and garden.
Q: What is your favorite Spika product and why?
A: I like all of them; I believe that Spika equipment is the best on the market. When you decide to work with us, you are going to receive the best product, the best design, and the best support. I am proud of everything we have out there.
Q: What advice would you give to someone shopping for work stands and/or ground support equipment?
A: Shop around, and make sure you ask for documented details of the product you are interested in. Be sure to collect information on product features and materials, detailed drawings, engineering information, quality control information, product testing information, and current customer contacts so that when it is time, you can make a sound decision on the piece of equipment you purchase.
Q: What is your favorite place in the world?
A: Anywhere warm…
Q: If sheep can't sleep, what do they count?
A: I don't know a lot about sheep; when I can't sleep I just get out of bed. So I am guessing they don't count anything. They just do what sheep do…probably eat and fertilize…
Subscribe to Email Updates