7 Steps to Buying the Perfect Custom Work Platform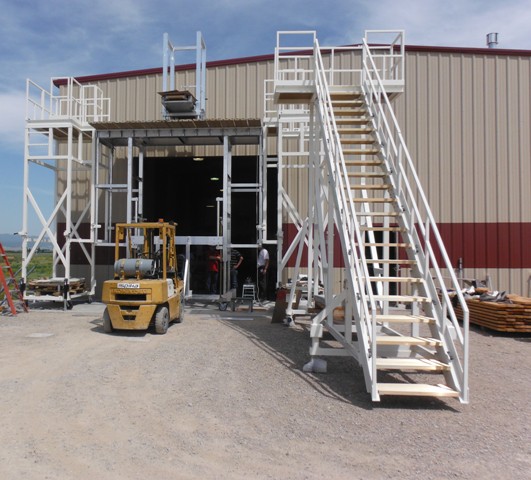 So you've decided you need to buy a custom work platform. How do you go about ensuring you end up with one that perfectly suits your needs? Try following the steps below.
1. Determine your needs
This first step is the most important. The better you understand your needs, the happier you will be with the final product. Get a team together and discuss questions like the following:
What does your work platform need to accomplish?
Where do you need to be able to gain access?
What will the platform need to work around/interact with?
How many people need to be able to work from the platform at any given time?
How much versatility is desired?
Consider not only access requirements, but also ergonomics. Talk with the people who will be using the platform. Do they need air and/or electrical service on the platform? Lighting? Will they be on their hands and knees a lot and need comfortable flooring, or do they need highly slip-resistant tread to stand on?
Flesh out your needs as fully as possible. But don't worry about figuring out how they will be solved; leave that to the design team.
2. Perform product research
The easiest way to find potential suppliers is an online search. Look for examples of manufacturers' past custom projects, download case studies, and research the competencies of the design team. Try to find suppliers who have done projects similar in size, scope, and complexity to yours.
You may also want to research what materials the company typically uses (aluminum or steel, for example) as well as the design program they use (SolidWorks, Pro-E, CATIA, or others). If you have a solid model of your exisiting equipment, it is beneficial to be able to exchange files with the design team to ensure proper interface between it and the platform.
3. Decide on a budget
Work platforms can range from a few hundred dollars for a small, single person platform, to several thousand for larger, more versatile platforms, to hundreds of thousands for large and highly complex systems. In the work platform market, the phrase "you get what you pay for" is as true as it is anywhere else. Beware of prices that seem too good to be true, and ensure that the platform's quality will stand up to your usage and safety requirements. It's also important to avoid inflating your costs by adding on non-value-adding features.
4. Gather dimensional and fit information
In preparation of a discussion with a potential supplier, gather the information your design team will need. How high do you need to be able to reach? How long of a platform is required? What is the shape of the equipment being accessed? If you have a CAD model of your equipment to send to the manufacturer, even better.
5. Decide on a supplier
Now it's time to contact potential suppliers for product and price proposals and make a selection. Final selection may take many forms: RFQs, informal discussions, design proposals, and others. Don't be afraid to ask for references of past customers. Remember that rather than a product with specific features and attributes, you're really buying a service. Ensure the supplier you select fully understands your situation, has a team that is able to perform at the level of complexity required, and will complete the work within your budget.
6. Go through the design and approval process
This is when the supplier takes over. They will spend time reviewing your requirements and coming up with a design that will work for your unique needs. You may be asked to verify dimensions, provide clarification, and approve drawings. It will also be important to convey to the supplier any quality documentation you will require.
7. Receive your platform
Your platform has been designed, manufactured, and shipped to your facility. Now what? Some assembly may be required, which will likely be performed either by your team or a crew from your supplier (the cost of supplier assembly should be discussed before you issue a purchase order). You'll also want to train (or have the supplier train) all users on proper usage and maintenance of the platform. Once that's complete, you're ready to start using your new platform!
Did you like this blog post? You may also be interested in:
Subscribe to Email Updates