Why You Need to Work with a Small Manufacturer on Your Next Project
You need to buy a new product, and you're deciding between a large manufacturer and a small one. Nine times out of ten, I believe you are going to be more satisfied with the small company. Here's why: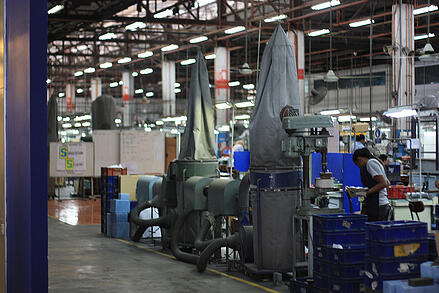 1. Outstanding Customer Service
Small businesses often excel at customer service. To a small company, every single customer is critical to the success and longevity of the business. You will not just be one name among thousands. That allows the company to give you specialized service and encourages them to do whatever is necessary to make you happy.
In addition, a small company has little or no hierarchy to work through, so you can expect to receive a quick response to your request. For example, we have a customer who needs a large number of work platforms, most of them unique and custom designed. As they get ready to order each new stand, they have the complete Spika engineering team available to take questions, participate in design reviews, and propose solutions to their most challenging access problems. Once the stand enters production, the customer is able to contact us with a modification request and see it implemented within the day.
Whenever you place a product in our hands, you'll have the entire company at your disposal. In just minutes, we can gather engineering, production, and your project manager together to work with you on developing the best solution for your needs.
If you're interested in customer service in small businesses, you may want to check out Harvard Business Review's blog on the subject, Why Small Companies are Better at Customer Service.
2. Adaptability
Small businesses easily adapt to new technologies and advances in the industry. Management is able to make decisions in real time when they discover a product or technology that will allow them to provide more value for their customers. In our company, every employee has access to Tom, the president, who can make an immediate decision on opportunities as they develop. Schedules can shift, new employees can be brought on, and processes can be modified almost instantaneously in response to the needs of a customer.
3. Employee Involvement
In small manufacturing companies, every employee, from Sales to Engineering, Accounting to Quality Control, and Marketing to Production, has a sense of pride in the finished product. They see a project evolve from beginning to end, and they are directly involved in the finished product. This translates to a higher commitment to quality and customer satisfaction. At Spika, we share customer feedback with the entire company, both positive and otherwise. The products we send out into the world are not just "Spika" products; they're the result of the labor and passion of each and every employee.
4. Business Purpose
Small companies typically have few shareholders, and most are directly involved in the operation of the business. Profit is not the sole purpose of these companies. For many, financial success falls after personal satisfaction, pleased customers, and business longevity as a reason for and goal of the business. This means that the company and its employees have the freedom to make decisions in the best interest of the customer rather than the shareholder.
photo credit: fung.leo via photopin cc
Subscribe to Email Updates