Designing a culture of service and community-building at Spika.
As part of Spika's core value to 'Build Our Community', Spika commits one day each year to a Day of Service in which all employees lend their hands to nonprofits in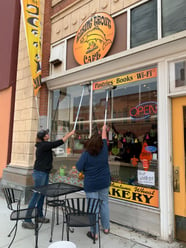 the community that need help for large projects, such as painting rooms or sheds, building structures, cleaning and organizing, or using Spika's design and manufacturing capabilities to provide tools, signs, or other equipment. For a community only 6,000-large, this infusion of more than 50 volunteers for a full workday is a significant and much appreciated effort.
For the 2020 autumn season, Spika Design & Manufacturing dedicated two days to physically serving the community that has been our home for the past 20 years.
To be clear, it is not just on the Day of Service where Spika gives back to the community. We at Spika encourage volunteering by our team members every month. The Day of Service is merely an annual celebration of this spirit of continual giving, wherein we do our service in unison for a day (or, in this year of the pandemic, for two days).
For the 2020 Day of Service, Spika's team members chose multiple projects for which they donated their time and effort on September 16 – 17, 2020. We have put together a photo-essay in a tweet-thread linked below. We hope you enjoy it as much as we did while serving our community.
Click on the image below to open a Twitter moment, and scroll down the entire page on twitter for the complete photo-essay.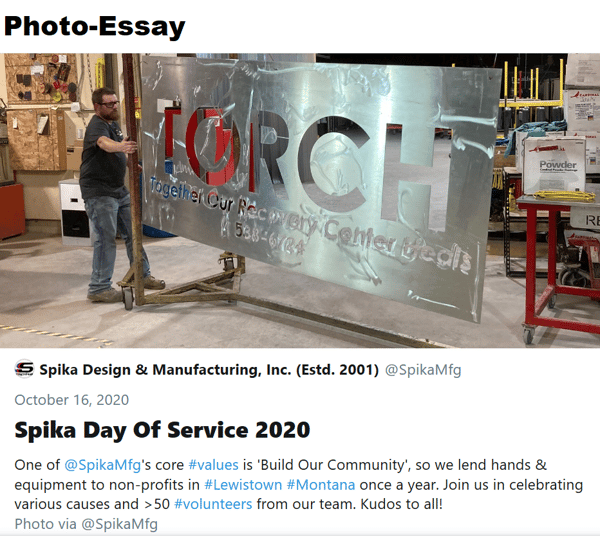 We at Spika Design & Manufacturing remain in deep gratitude for these opportunities to serve our community. Every such opportunity to exercise the muscle of kindness and selflessness for the greater good is something that we welcome wholeheartedly. We then continue with the same mindset when our phones ring, or an email from a prospective customer or a repeat customer arrives. We address customer issues with the same mindset and do everything possible to do right by our customers. That is why we have repeat customers from some of the biggest brands from around the world – customers who keep coming back to work with us in Lewistown, Montana, over and over again – the town that has given us such innovative talent, a can-do spirit, an amazing work ethic, and a home of which we remain incredibly proud.
Subscribe to Email Updates